Al Batinah Power Company SAOG (the "Company") takes its role as a responsible corporate citizen seriously. Guided by its CSR policy focusing on local initiatives in the areas of education, sports, health, safety and environment, the Company has spent 25,250 OMR in two projects in 2018 as summarized in the table below:
| Project Description | Amount (RO) |
| --- | --- |
| 80 KW Solar PV project at Hind Bint Usaid School in Barka area. | 15,250 |
| Special equipment for the skin clinic in Liwa health center. | 4985 |
| Dental chair for Liwa health Center. | 5008 |
| Total | 25,243 |
The first project was installation of 80 KWp Solar PV systems at Hind Bint Usaid School in Barak area. The work has been completed and inaugurated in December 2018. The total project cost was around 60,000 OMR which was sponsored by four power companies including AL Batinah Power Company. The Project has a capacity of 80 KWp and expected to produce around 120 MWh/year. By completing the projects the objectives have been achieved which are
Economical value: After the school hours the production can be sold the distribution network at CRT tariff and expected to net-off the annual electricity bill of the school.
Increase green energy awareness amid the students and society.
Support to the local SME: the project has been installed by local SME who has learnt and gained experience during the installation processes.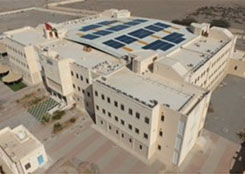 The company has donated 10,000 OMR worth of medical equipment to Liwa health center. These equipment are dental chair and special devises for the skin clinic in the centre. The delivery of these equipment to the center is early 2019. Liwa health centre supports large segment of population in Liwa area which is close to the port of Sohar where the plant is located.